Wind & Storm Damage Cleanup
Storm Damage Cleanup Restoration Services
High winds, heavy rain, hail, falling trees and more are just some of the crazy events we can have here in the Treasure Valley at any time.  When these storm damage issues happen, homeowner's and business owner's are often faced with the daunting task of hiring roofers, siding companies and glass companies to inspect and repair the damage.  Let Master Restoration Idaho handle all of the property damage.  Our Boise team of experienced storm damage restoration service specialists are available 24/7, 365 days a year, for you when wind, hail, rain, lightning, falling trees and more strike.  
We work with all insurances to restore your home or business to pre-loss condition or better.  Give us a call today!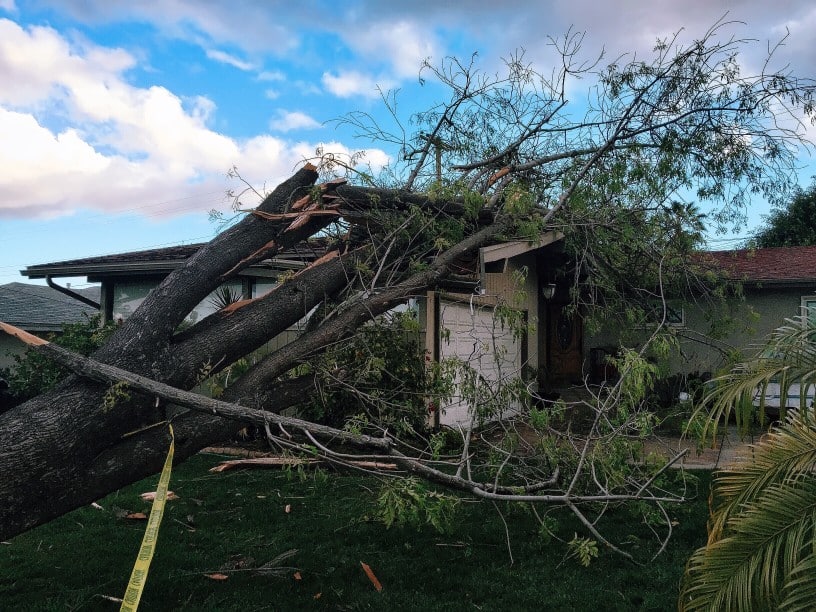 Contact Us Today For A Free Estimate!
Wind & Storm Damage Services
Wind and Storm Damage in Boise can be as unpredictable as is the damage it can cause.  From downed trees, fire damage, broken glass, roof leaks, crawl space flooding, basement flooding and more, Master Restoration Idaho is the damage restoration expert you can trust. 
Our local damage specialists are trained to provide proper storm damage restoration and can lessen possible issues when you encounter these emergency situations.    Our array of damage restoration services in Idaho makes us the best storm damage restoration option for your home or business.
Give Master Restoration Idaho a call today!
We Work With All Insurances
We have experience working with all insurance companies and can help you file a claim correctly.















Give Boise's Best Wind Storm Damage Cleanup Company A Call Today!
Brittany Aitchison
April 19, 2022.
I have been extremely pleased with Master Restoration. They have been thorough and attentive to details. I am very grateful to this company. Would recommend using them for clean up and repairs.
Jane janer
April 19, 2022.
Master restoration was very professional responsive and efficient after work I'm glad to have had them do it.
Ryan Minegar
February 15, 2022.
janeane ramirez
January 13, 2022.
Conor was very professional and was helpful in Answering all my Concerns with my Mold issue. I would definitely recommend Their Services in the future. Thank you Master Restoration 👍
David Barrutia
December 17, 2021.
A windstorm blew off half our roof one day. I called Master Restoration and talked to Nick Crabtree. He immediately had his roofing contractor call me to make arrangements to tarp the roof immediately to prevent any further damage. Over the next couple of days, Master Restoration took the lead and guided me through the unfamiliar process of hiring people and setting schedules and assisting with the insurance adjuster and filing the appropriate claims. I am convinced that had I not hired Master Restoration the insurance would not have covered the whole roof. They were going to cover only the portion that blew off and we would be responsible for the rest, to the tune of 10,000 dollars. Well Master brought in their moisture sensors and took readings proving that all the insulation got wet in the storm and needed replaced. They brought in dehumidifiers and showed all results to the insurance company and they then agreed to replace the entire roof, I only had to pay the deductible. The work was done quickly and professionally. I would reccomend Nick Crabtree and Master Restoration for any work you might need done. Great group of guys to work with. David Barrutia
Pam Tracy
December 17, 2021.
sasquatchalorian
December 17, 2021.
Love these guys, they are very responsive and professional and know their stuff. They have completely earned my trust w big jobs and smaller ones when you need peace of mind. Great crew of nice people!
Kaitlyn Meath
December 9, 2021.
Master Restoration always makes time to do inspections for me and my clients. They are friendly, professional and honest. If there is a problem in the home, they fix it and make it right. I will continue to refer all my family, friends, and clients to Master Restoration. They truly care about people and the asset that matters most to them!
Jessie Reed
November 27, 2021.
Can't say enough good things about this company. They went above and beyond. Happy to send referrals their way!!