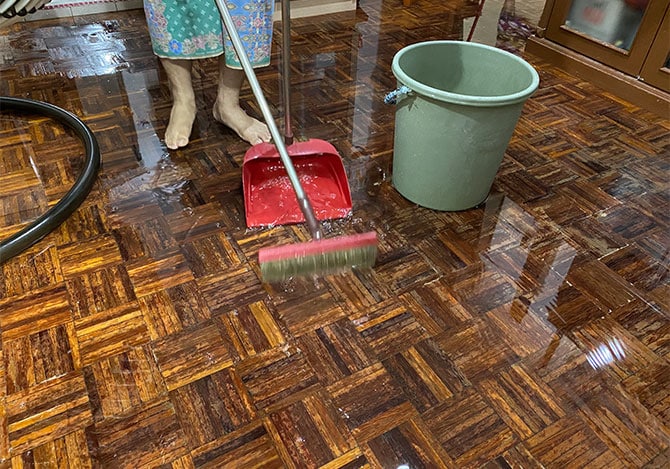 Your First Five Steps After a Flood Hits Your Home
Flooding is a significant problem in US households. According to statistics, about 98% of homes will experience basement flooding eventually. While it might seem common enough to underestimate, having water underneath the house may cause irreparable damage.
Flooding can be caused by many things: broken pipes, sewer flooding, strong typhoons, and so on. It may not seem like much at first, but it can cause leaking, weaken the foundations, and even cause mold growth. Here are the five things you should do right after you experience a house flood!
1. Prioritize your safety
If ever flooding occurs in your house, always prioritize safety over everything else. First, make sure to remind your family to stay clear of the flood. Floods can be dangerous, especially when in contact with live electricity. 
During flooding, it is best to shut off the primary power source to prevent electrocution. After the flooding has subsided, make sure to wear protective gear such as gloves, boots, or anything that can serve as an insulator. You can also hire an electrician to check for broken lines before turning the power back on.
2. Stop the cause of the flooding
As mentioned above, flooding can be caused by a lot of reasons. The best move to stop it from happening is to stop what causes it. For example, if a broken pipe or sewer blockage causes flooding, better turn off the water main right away. Doing so should prevent the water from accumulating, stopping the flood. If it was caused by a typhoon, the best move is to evacuate before it gets worse.
After the flood, you should document all the damage. Do not touch anything for now, as you may cause more harm than prevent it. Pictures and videos can serve as a reference for your insurance claim later on. The files can also serve as reference photos for the repair company.
4. Keep your insurance provider updated
It always pays to get home insurance for instances like these. As repairs can get expensive, insurance can help you cover payments—possibly costing you nothing at all. However, obtaining reimbursement from insurance companies can take time. 
You should immediately call your insurance provider to update them immediately. Do your part in helping them verify the disaster by providing the information they require. Informing them early on should give you ample time to do other necessary things, such as moving your furniture or calling a repair company.
5. Hire a professional to fix damages
As the flooding subsides, call a professional to drain the water and fix the damage. Hiring a professional can get a bit expensive, but it is better to pay for an experienced professional rather than doing repairs on your own. Experts can help you bring back all the damage to their original state. Repairing, especially without experience, may lead to even more damage.
Homeowners should take flooding with a grain of salt. However, we can learn what we can do in case it happens. It might be scary to encounter something as destructive as this, but knowing what to do when it happens should help you get through it.
Master Restoration Idaho is a complete damage restoration company based in the heart of Boise. We also offer services to other cities such as Meridian, Campa, Caldwell, and the surrounding areas. Powered by our motto of "making your home or business whole again," we take pride in providing quality service in these areas: water damage restoration, fire damage restoration, mold damage restoration, crawl space restoration, and even Coronavirus cleaning.
We give out free estimates for our potential clients. So what are you waiting for? Call our 24/7 customer support line today!