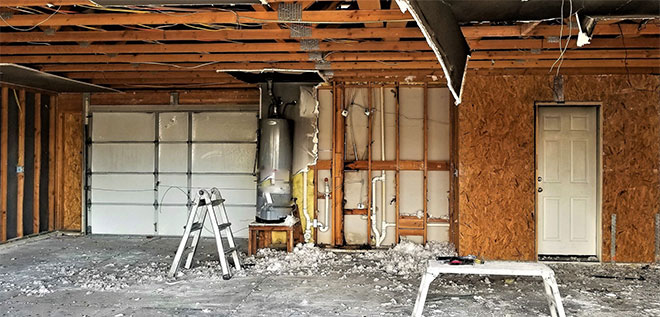 FIRE DAMAGE RESTORATION CONTRACTOR
4 REASONS TO HIRE A FIRE DAMAGE RESTORATION CONTRACTOR - WHAT TO KNOW
Nothing can be more devastating than confronting fire damage. A fire outbreak can happen due to a handful of factors, primarily cooking. Carelessness, heating, and electrical malfunction come in next. Dealing with damage to a property and the valuable items inside can be such a daunting task. Whether a minor fire or major outbreak, you have to clean up the mess, perform some repairs, and restore the entire property. That's where a
damage restoration company
comes into the picture.
It's better to leave the
fire damage restoration
to the professionals. Why? Here are four good reasons to do so:
The restoration of property due to fire damage is never easy, and it requires a certain level of experience to pull it off. Think about re-establishing the foundation of your property, removing all the clutter, cleaning the mess, and fixing all the broken parts. What's good about a professional fire damage restoration contractor is that the team has a high level of experience in the restoration field. These professionals have the knowledge, skills, and expertise needed to complete the restoration project effectively.
When it comes to the restoration of property brought by the fire damage, safety comes first. Expect some areas of the property as well as some parts and components to pose a major risk. Consider as well some
toxic substances caused by the fire
that can compromise your health. A professional restoration contractor is trained to deal with those risks and potential hazards. These professionals are fully equipped with protective gear—from helmets to face masks, down to boots. They have the right tools and equipment needed to perform the restoration task.
Fire damage can be devastating, and it has to be addressed promptly. If left unattended, it can cause further damage to your property and valuables inside. What's good about
a fire restoration company
is how it is readily available. As soon as the fire dies out, you'll be able to reach out to them, and they'll be more than willing to help you. Given their level of expertise and experience, they'll hope to deliver an exceptional service the fastest way possible. The entire household can go home safely and get back in track in no time.
A professional fire damage restoration contractor comes with insurance coverage. You know how a fire damage restoration can be risky—these professionals can be prone to injuries and accidents. If you do the restoration yourself, you may be putting yourself at risk. If you hire someone who doesn't have the insurance, you will be held liable for any accidents. Insurance coverage will protect a professional restoration company when unforeseen circumstances happen.
It's best to hire a professional damage restoration company due to its experience, priority on safety, availability of personnel, and insurance coverage.
Before you take the plunge, however, make sure to assess the property damage and document everything for insurance purposes. From there, you can go ahead and contact the fire restoration contractor.
A restoration contractor will focus on securing the foundation first, then perform the cleaning and removal process, and finally, repair and restore all areas affected.
If you are looking to hire a fire damage restoration company in Boise, Meridian, Eagle, Nampa, Caldwell, and surrounding areas, get in touch with us today to see how we can help!