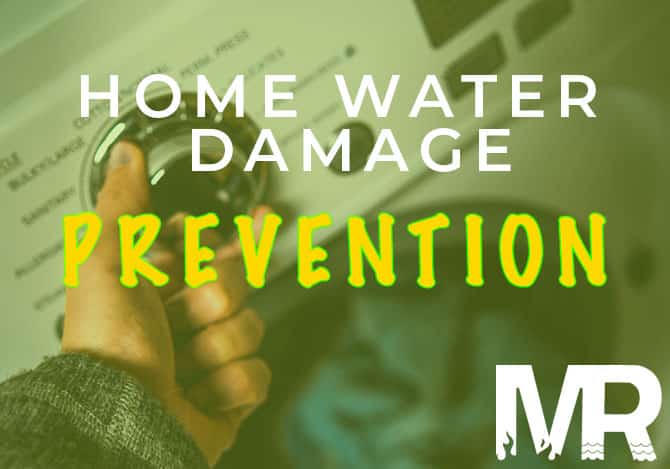 Water Damage Prevention – Keep An Eye On These 4 Things
At Master Restoration of Idaho, we receive a lot of water damage restoration calls in Boise, Meridian and beyond.  A small amount of water in your property can cause significant damage, which is why you need to know how to protect your home from water damage. When water finds its way into your property through various areas, you could be looking at mold growth and extensive water damage that can cost you time and money. The key here is to know how to spot issues right away. 
Here are our 4 most common culprits we receive calls on in the Treasure Valley and ones you need to check to prevent water damage:
One of the most common sources of water damage in a property is the washing machine hose. A broken hose can release a huge amount of water, and it's under constant pressure, which could weaken and burst. 
Prevent this by replacing the hoses every five years and choose wire-braided, high-pressure ones.  Additionally, there are many washing machine leak detectors available online or at Lowe's and Home Depot.  They vary in price but are cheap compared to having a problem.
When your toilet leaks, it can waste as much as 100 gallons of water every day, which is why you need to test your toilets for leaks. You can do this by putting a few drops of food coloring in the toilet tank. If the color appears in the bowl, that means you have a leak.  Also, make sure to check the sewer pipes in the crawl space area once a year to check for water.  If you have water visible, give us a call right away for crawl space damage restoration services BEFORE mold damage begins.
3. Appliances and Fixtures
Another way to prevent water damage is to keep an eye on appliances and fixtures that use water. Make it a point to move the fridge and other appliances regularly to check for any damage or signs of a leak. You should also check water line connections that are attached to the dishwasher and other appliances. 
It's essential to leave a gap of at least 3-4 inches between the unit and the wall,  and make sure not to run appliance cycles when leaving your home or going to sleep. 
You should also inspect your home for leaks under pipes, sink cabinets, ceilings, etc.  All of this is especially important to prevent hardwood floor damage.  If you have water on or under your hardwood floors, you'll know it right away as the floor will start to buckle.  Master Restoration of Idaho can help you with your hardwood floor damage restoration needs as well.
Although it is pretty rare here in the Treasure Valley,  ice dams are something something that you need to watch out for. Ice dams may form that could lead to water damage in your home.     
When your attic insulation doesn't reach the exterior wall, the heat inside your home in the winter will go from the interior to the attic. A little heat from this situation can melt the snow on your roof, which will then run into the gutter, and at night, the melted snow will re-freeze, forming ice in the gutter. 
Once the gutter is full, the ice will begin to form a dam and then refreeze. If you don't know that this is happening, the ice can penetrate the shingles that will make it ways into the attic and down to your living area. 
Prevent this from happening by having your gutters and downspouts cleaned, inspected, and repaired. Make sure your attic is also insulated property and has enough ventilation in the room to keep the roof cool.
We receive this type of damage restoration call a lot when property owners with large trees do not clean their rain gutters.  
You can prevent water damage in your Boise, Meridian, Nampa, Caldwell, Kuna & Eagle property as long as you know how. Use these tips to help you prevent it from happening inside your home, especially after the winter months!
For a reliable water damage restoration service in Boise, ID, Master Restoration Idaho is here for you. Our professionals can help restore your home properly after a water damage. Contact us today!