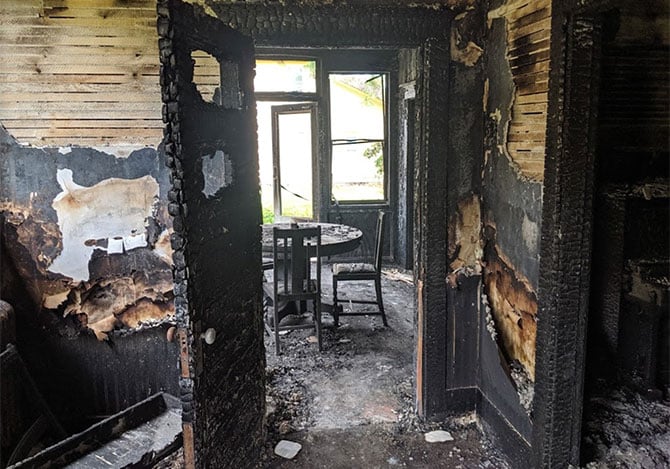 Mold Control After Fires And Floods
Dealing with a fire or flood that greatly affected your home will never be an easy experience, no matter which way you look at it. But it's important to act fast because you can only have so much time until things get worse.
Shortly after the fire is put out or when the flood infiltrating your property subsides, you'll quickly realize that the list of things you need to take care of and worry about is larger than you initially thought. 
Based on the checklist you may have at the moment, there are certain items that need attention the most, such as filing an insurance claim, moving damaged items, bringing kids and pets to mom's house. While each task on your to-do list definitely bears a certain level of importance that can't be overlooked, the main task you shouldn't pass up on any longer is preventing mold after water or fire damage.
A task that should be your priority
Although most homeowners will tell you not to worry about mold or advise you to put it at the back of the list of tasks, the truth is that it should be the other way around because of its severity. 
Considering that the problem itself is a naturally-occurring fungus that can move fast with minimal amounts of moisture and humidity, it can easily spread if you don't act on it fast. Unfortunately, not acting quickly enough on the possible presence of mold in your home can further damage it and make your situation worse by exposing you to a host of health problems and inconveniences.
Steps to follow for mold prevention
When it comes to effectively dealing with the possibility of mold growths after a flood or house fire, it doesn't get any simpler than following the right tips and tricks to prevent more problems from happening. Fortunately, our experts at Master Restoration Idaho have compiled a concise step-by-step guide that will make it much easier to get your restorative efforts on the right track:
Step #1: Follow the two Ds—dry and disinfect
The first step that you'll need to take when keeping your house free of mold is to dry and disinfect it from whatever might already be growing in a short period.
At this point, it's important to understand that spores of the fearsome fungus can easily spread in wet or damp areas once the opportunity arises. By taking the time to dry everything out with fans and cloth while disinfecting over areas with mold spores that are already growing, you can prevent a small problem from growing into an even larger one.
Step #2: Remove damaged items
After drying and disinfecting the parts of your home that can't be moved (walls, pillars, floors, and ceilings), the next step is to remove any additional items that can harbor mold. Whether it's a soaked-up couch that's taking much longer to dry or damaged papers, it's important to ensure that every piece that is exposed is removed ASAP because of how it can also foster growths of spores!
Step #3: Hire the services of Master Restoration Idaho's experts
Now that you've done everything to mitigate the risks of mold post-fire or flood on your own, it's important to bring in the services of an expert to help you bring everything back to what it once was. Through the help of our professionals, you can leave your home in skilled hands without any worries because we're expertly trained in the fields of mold removal and home restoration!
While there is much to deal with as you handle your home after a fire or flood affects it, one of the more important tasks you can't afford to overlook is taking care of potential mold grows you'll have on the premises. Through this three-step guide's help, you won't have to worry about leaving your home vulnerable to additional mold damage in the future! 
If you are looking for a mold damage restoration company in Boise, ID, to serve your home's needs, look no further because we've got you covered. Get in touch with us today to schedule an appointment with any of our trained professionals with years of experience you can rely on!